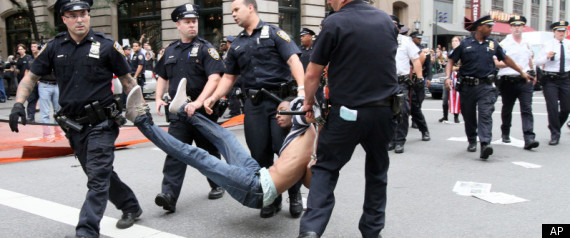 Tensions are rising at the Occupy Wall Street protest, currently in its eighth day, as organizers for the protest claim that
80 have been arrested
.
Eyewitness accounts report
that "dozens" have been arrested. Police would not confirm
the exact number
. Videos and eyewitness accounts show violent clashing between protesters and the police.
WNYC reports that
"of the dozens arrested, most were for disorderly conduct, obstructing vehicular and pedestrian traffic, resisting arrest and, in one case, assaulting a police officer, the police said."
The skirmish escalated in Union Square Saturday afternoon, as Twitter users report a
huge influx of police officers
. This video, below, appears to show female protesters being penned and maced by police officers:
Origin
Source: Huffington